Shannon
Practice Manager
Shannon McCorkle joined our team recently as our Veterinary Practice Manager and has been in veterinary medicine for over 20 years, as a veterinary technician in both general practice and critical care. She is passionate about exemplary client care and elevating the knowledge base for the technical staff.
Shannon also holds a bachelors in art (BA). Her work includes multimedia art forms such as illustration, print work, & photography. In her spare time, you will find Shannon hiking or roller skating, cooking and listening to records. She also keeps a backyard flock of chickens, has a Cattle Dog named Dexter (not after the TV show) and a cat named Mimma.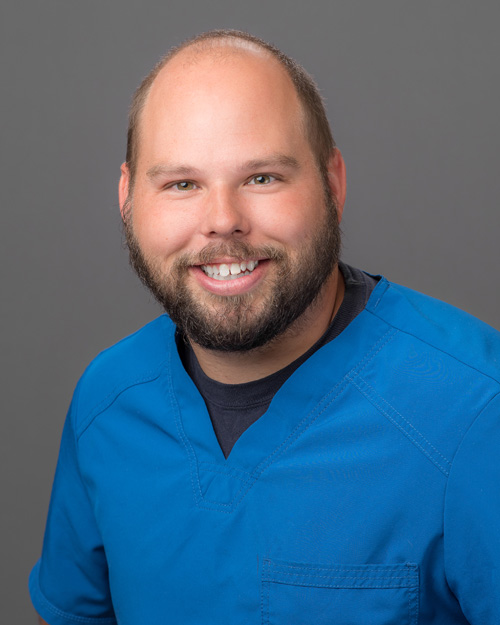 David
Assistant Practice Manager
My name is David Beckwith Jr. I am 31 years old. Ive been married to my beautiful wife for 11 years, and we have a fantastic, 10-year-old daughter. Ive been with West Hills Veterinary Centre going on 12 years now. I quickly realized not long after I started that this was my true passion and calling. If I'm not at work you can find me hunting, fishing, watching sports, or on the softball field with my daughter. My family is just as crazy about animals as I am that's why we have seven dogs that are loved and babied more than they should be. Also, I am an avid Cowboys fan.
Megan
Animal Care Technician
Megan grew up in Oxford, NC where her love for animals began early in life! She always knew she wanted a career working with animals which made veterinary medicine a perfect fit for her! Megan worked at West Hills since 2018 and is currently enrolled in a Veterinary Technician program as she aspires to be a RVT. In her free time she enjoys photography, nature, and spending time with friends, family and Sage her 4 year old Husky!
Shalondra
Animal Care Technician
Shalondra is from Oxford, North Carolina. She's been working as a kennel tech for over a year. In May 2019, she graduated from Salem College with a B.S. in Biology. She loves learning about animal behavior, especially exotic animals. She has two chihuahuas, Chico and Gidget, and a guinea pig, Ginger. When she's not working, she spends most of her free time working on her family tree, watching Netflix, and writing poetry and the next best novel.
Tracey
Veterinary Technician
I have been working in the veterinary field for 26 years. I started out cleaning kennels and worked my way up to technician. I took a hiatus from veterinary medicine for a few years to work in the lab animal industry, but decided to come back to private practice. I love working with animals and I couldn't imagine doing anything else. When Im not working I enjoy spending time with my family. I share my household with my family and my small collection of pets, which include 3 dogs, 4 cats, 2 guinea pigs, and a ferret.
Amanda
Technician Assistant
My name is Amanda, I am 23 years old and have worked with animals in multiple fashions, and have loved every minute of it! I myself have 3 dogs, 2 cats, and a turtle! I also enjoy fostering fur babies and finding them a perfect furever home! From volunteering at the shelter, being a dog bather, pet sitting and doggy day care, to vet technician! I absolutely love what I do!
James
Veterinary Assistant
Bio coming soon!
Tiffany
Customer Care Representative
Who doesn't love animals? They bring a joy to us without ever expecting anything back except for love and affection in return. When Tiffany made the transition from being a pharmacy technician to becoming a CSR within a veterinary hospital almost 2 years ago now, it literally changed her whole perspective on her life at the time. She became a part of a close-knit work family that have weathered highs and lows, always having one another to turn to. This job also introduced her to her sweet and excitable dog, Lupin, who she adopted from Vance County Animal Shelter. He's an Aussie Mix that she probably should've named Tigger for how much he bounces around and he brings a smile to her face even on the hardest of days. Tiffany can honestly say that working with animals is more than just a passion, it's where her heart is. She is glad she took the chance she did to apply here at West Hills because it's allowed her to work alongside people that have treated her like they've known her for years, even on her very first day back in February of 2019. Home is where the animals are and Tiffany has found it.
Tori
Customer Care Representative
Bio coming soon!
Melody
Groomer
My name is Melody. I'm from Raleigh NC I've been grooming since I was 18. I have 6 dogs and a cat. I have a passion for dog fashion.
Crystal
My name is Crystal Crabtree and I am 36 years old. I have a wonderful husband and 2 amazing children. I enjoy working with animals as we have several of our own. My family has 3 dogs, 2 cats, fish, a sugar glider and a turtle. I enjoy coming to work everyday and being able to help you take care of your pet. I know in my family our pets are not just animals but they are a part of the family. Pets offer so many wonderful things to our lives. It's a blessing to be able to work with so many pets everyday!