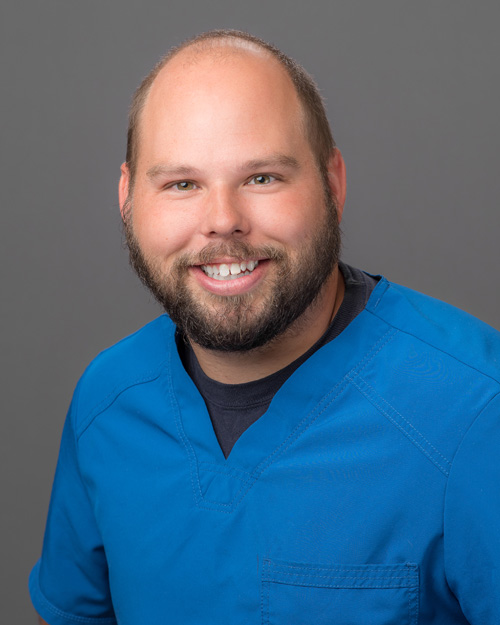 David
Practice Manager
David Beckwith Jr. is 31 years old. He's been married to his lovely wife for 11 years, and they have two fantastic daughters, one who is 12 years old and the other who is 9 months old. He's been with West Hills Veterinary Centre going on 12 years now. He quickly realized not long after he started, that this was his true passion and calling. If he's not at work you can find him hunting, fishing, watching sports, or on the softball field with his daughter. His family is just as crazy about animals as he is that's why they have seven dogs that are loved and babied more than they should be. He is also an avid Cowboys fan.
Ally
Marketing Specialist
Ally attended the University of North Carolina Wilmington and graduated in 2018 with a marketing degree. She has always had a passion for marketing and absolutely loves connecting with the community and people. She was originally born and raised in Raleigh, North Carolina and has always felt that NC is home!
Her love for animals began with her very first pet, Millie. Millie was their household Beagle mix and Ally developed a strong bond with her that lead her to feel an intense passion for ALL animals. Throughout the years, she has spent a good chunk of time volunteering for animal rescue organizations and shelters and she feels it was an honor to be in a position where she could continue to pursue her passion for animals, professionally.
She knew she was in the right profession when she could use her skills to help advocate for the proper care and treatment of animals. Ally feels honored to promote West Hills Veterinary Centre and Animal Clinic because of their great team and the high-quality service they provide.
Outside of work, she enjoys spending time with her seven-year-old Yellow Lab, Mabel. They enjoy traveling and taking leisurely walks throughout the neighborhood and along trails. Mabel has been her fur baby since she was only a few weeks old and Ally is grateful every single day to have her in her life. She also enjoys gardening, running, reading, and spending time with her parents and younger sister!
Tracey
Veterinary Technician
Tracey has been working in the veterinary field for 26 years. She started out cleaning kennels and worked her way up to technician. She took a hiatus from veterinary medicine for a few years to work in the lab animal industry, but decided to come back to private practice. She loves working with animals and couldn't imagine doing anything else. When she's not working she enjoys spending time with her family. She shares her household with her family and her small collection of pets, which include 3 dogs, 4 cats, 2 guinea pigs, and a ferret.
James
Veterinary Assistant
James joined our team in July 2019 and is currently in school to become a registered veterinary technician. He started working in the veterinary industry because he has always had a huge love for animals and a passion to help them. His favorite part about working with animals is watching sick pets become healthy again, and watching young pets grow.
As far back as James can remember he always wanted to grow up to be a veterinarian, and since day one of being an assistant, it has felt right. He has a wife named Ashley, who is a paramedic. When he is home away from work he likes to spend time with his animals, clean them, and feed them. His pets include; 5 dogs, 3 cats, 7 ferrets, 6 ball pythons, a black rat snake, a Burmese python, a red tail boa, 2 leopard geckos, a bearded dragon, a veiled chameleon, a cockatiel, 8 tarantulas, a black widow, Madagascar giant hissing cockroaches, dubia roaches, 9 rabbits, countless rats. He hopes to someday breed reptiles!
Tiffany
Veterinary Assistant
Who doesn't love animals? They bring a joy to us without ever expecting anything back except for love and affection in return. When Tiffany made the transition from being a pharmacy technician to becoming a CSR within a veterinary hospital almost 2 years ago now, it literally changed her whole perspective on her life at the time. She became a part of a close-knit work family that have weathered highs and lows, always having one another to turn to. This job also introduced her to her sweet and excitable dog, Lupin, who she adopted from Vance County Animal Shelter. He's an Aussie Mix that she probably should've named Tigger for how much he bounces around and he brings a smile to her face even on the hardest of days. Tiffany can honestly say that working with animals is more than just a passion, it's where her heart is. She is glad she took the chance she did to apply here at West Hills because it's allowed her to work alongside people that have treated her like they've known her for years, even on her very first day back in February of 2019. Home is where the animals are and Tiffany has found it.
Carolina
Veterinary Assistant
Bio coming soon.
Rachel
Veterinary Assistant
Bio coming soon.
Thomas
Veterinary Assistant
Bio coming soon.
Abbigail
Kennel Attendant
Bio coming soon.
Brendan
Kennel Attendant
Bio coming soon.
Taylor C.
Customer Care Representative
Taylor graduated from Louisburg High School in 2021. However she was born and raised in Henderson and continues to live there.
She began working at a boarding facility because she knew she wanted to be around animals. Animals fascinate her! They all tug at her heartstrings, dogs in particular.
Taylor is engaged and has a daughter. She also has two dogs: Kane and Copper, a pit bull and coonhound. When she's not at work, she's usually at home with family and friends.
Melody
Groomer
Melody is from Raleigh, NC. She's been grooming since she was 18. She has 6 dogs and a cat. She has a passion for dog fashion.